September 25, 2019 turned out to be a bad day for Verisk Analytics—a jury determined that Verisk willfully infringed several patents on aerial imaging owned by rival EagleView Technologies and set damages at $125 million.
February 16, 2021 turned out be a REALLY BAD DAY for Verisk Analytics. On that day, the New Jersey federal judge overseeing the case awarded "treble" damages and increased the damage award to $375 million as a punitive measure in view of Verisk's conduct—both prior to being sued, as well as during the case itself. In addition, he ordered Verisk to pay the attorneys' fees and costs incurred by EagleView, as well as pre- and post-judgment interest. See Eagleview Techs., Inc. v. Xactware Sols., Inc., No. 1:15-cv-07025, 2021 U.S. Dist. LEXIS 28272 (D.N.J. Feb. 16, 2021).
Verisk was ordered to pay roughly $400 million in penalties. Putting this in perspective, the total revenue—not even profit—they made from the accused products was $50 million.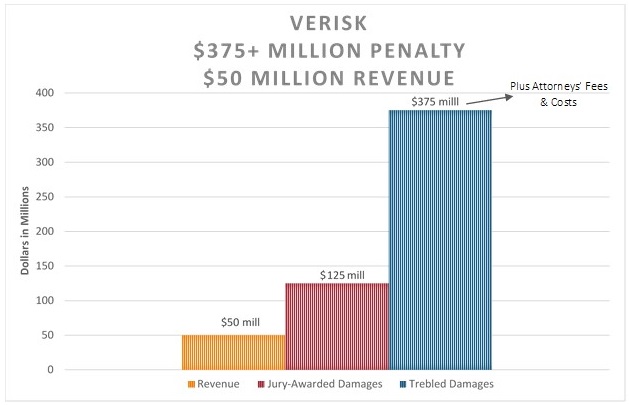 The Court first went through the Read Factors, to determine whether an infringer's behavior warranted enhanced damages, ultimately finding against Verisk on all nine Read factors. The Court's discussion of Verisk's behavior is a veritable roadmap for "what not to do" as a would-be infringer:
Factor 1: The Court found that Verisk deliberately copied the patented ideas from EagleView. During the trial, Verisk admitted that it toured EagleView's facilities, and even took pictures. They then internally discussed adopting EagleViews technology for themselves.
Factor 2: Verisk did not investigate the scope of EagleView's patent and did not form a good-faith belief that they did not infringe.
Factor 3: Verisk repeatedly ignored the weakness of their own arguments and instead made the litigation needlessly complex to increase EagleView's costs.
Factor 4: A Defendant's size and financial condition can sometimes be a deterrent to awarding enhanced damages, but the Court was not deterred here. The Court found that trebling damages would not severely impair Verisk's ability to function, especially based on the possible support of Verisk's parent company.
Factor 5: When the jury returned their verdict after only two hours of deliberation, the Court saw this as evidence of the case not being close at all, seeing Verisk's arguments as mere "spin."
Factor 6: The Court looks to how long the misconduct continued. Here, Verisk's infringing misconduct lasted nearly a decade, from 2012 up until the post-verdict injunction in 2019.
Factor 7: Verisk never took remedial actions and maintained they did nothing wrong throughout.
Factor 8: Here, the Court noted that Verisk appeared to be "driven by a specific animus toward EagleView," citing an inexplicable aura of animosity between the parties throughout the trial.
Factor 9: Verisk attempted to conceal its misconduct at all turns.
Based on this egregious conduct, the Court awarded treble damages as a punitive sanction. Exceptional case fees were also warranted here. At trial, Verisk had characterized the case as "Alice's journey through Wonderland". In its opinion, the Court sarcastically noted that it was Verisk who "chose to go down the rabbit hole, taking EagleView and the Court with them."
Verisk also ignored, and at times, flaunted the Court's rulings. For example, Verisk introduced a "patently irrelevant and inflammatory exhibit" at trial, seemingly undeterred by the pre-trial motion in limine where the Court excluded this same evidence. The EagleView employee's communication quoted sexually-charged definitions and a comment with racist undertones, which had no bearing on the infringement matter at hand. As the Court noted, this was "not Defendants' only mischief," pointing to Verisk's surprise introduction of new theories of non-infringement raised for the first time at trial.
Despite Verisk's improper conduct, the Court was nevertheless fair in assessing the behavior of both parties. Specifically, the Court found that Verisk was not the only party acting improperly. Plaintiffs began the case by asserting infringement of nine patents encompassing 153 separate claims, but finally narrowed their case down to six patents and 11 asserted claims. In the end, the Court noted that when a party files a complaint alleging an "unreasonable and unwieldy number of patents and asserted claims"— which are certain to be reduced by any court— that party will face an uphill battle in convincing a court to declare the entire case exceptional when seeking to recover costs and attorney's fees. Due to this "self-inflicted" complication of the case by EagleView, the Court did find not find the pre-trial phase to be "exceptional" and ordered Verisk to pay costs and attorney's fees only for the trial and post-trial stages.
Key Takeaways
The facts of this case were a bit extreme, and the result in the end was commensurately extreme. The law does not require perfection—just reasonableness in how businesses should conduct themselves. If something doesn't seem right or appropriate, follow your instinct and do the right thing:
If improperly copying a competitor's product seems like the wrong thing to do, then don't do it.
Even if a judge orders something you disagree with, follow the rules—you can always appeal later.
If an argument seems weak, consider whether it's worth pursuing—weak arguments will likely fail.
Investigate before acting to make sure you do not violate IP rights of others.
With this case in the rearview mirror, others dealing with intellectual property should realize that courts will not tolerate improper conduct, and the juice is simply not worth the squeeze.